A9UF726434 <!- Second line -->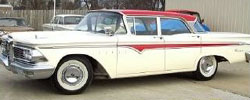 Dataplate specifications
Ranger, 4-door sedan, Snow White with President Red
Red/Black vinyl, white trim interior

223 Econo-Six
Edsel number 726434 manufactured in Louisville, KY
---
Information as of: July 2002

Owner: unknown (online auction car)
Location: Iowa
Owned since: unknown Mileage: 78,760
Condition: Runs and drives well
Originality: unknown Accessories included: unknown Notes:
This car looks great, new paint in 1998, original interior is in top shape, no tears or flaws. Mechanically the car runs great, engine and transmission are very solid, no leaks and it doesn't smoke. This car has been on many trips and can be driven anywhere with confidence.
Included with the car is the original window sticker, the original purchase agreement and the original service policy.
---
©2002 BE All Rights Reserved