W9UH726151 <!- 57F GE1 50 13B 4 5 -->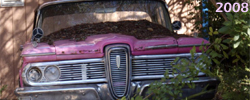 Dataplate specifications
Ranger, 4-door hardtop, Talisman Red (Pink) and Snow White
Silver vinyl/black cloth interior

361 Super Express V8, Dual-Power 3-speed transmission, 2.91:1 axle ratio
Edsel number 726151 manufactured in Louisville, KY on February 13, 1959
---
Information as of: February 2012

Owner: Vanessa Edmunds
Location: Cedar Key, Florida
Owned since: November 1, 1999 Mileage: 24,831
Condition: Not Running but salvageable
Originality: All parts are factory authentic for the car Accessories included: Radio, Wheel Covers, Two-tone Paint Notes:
It is currently not running, but with a little care, I believe that it could be. The car is original and owned by me since my father passed away.

This car belonged to my father, Walter Beckham, who owned and drove two different Edsels in my lifetime. When he passed away in 1999, he left me the car, and I have a great emotional attachment to it.
So many people who visit our island stop to take pictures of it, that I now have a "collection of pictures of people taking pictures of my Edsel"!
---
Information as of: February 2012

Owner: Walter Beckham
Location: Florida
Owned: unknown Mileage: unknown
Condition: unknown
Originality: All parts are factory authentic for the car Accessories included: Radio, Wheel Covers, Two-tone Paint Notes:


<!- A HREF= http: www.edsel.com/gallery/e584h703961.jpg Gallery Link /A -->
---
©2012 Edsel.com All Rights Reserved