A9UC726010 <!- Second line -->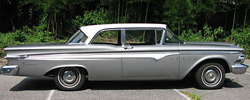 Dataplate specifications
Ranger, 2-door sedan, Moonrise Gray with Snow White
Silver vinyl/black cloth interior

223 Econo-Six, 3-speed manual transmission
Edsel number 726010 manufactured in Louisville, KY
---
Information as of: August 2009

Owner: unknown (online auction car)
Location: Annapolis, Maryland
Owned since: 1996 (Family-owned since new) Mileage: 63,406 (odometer stopped working)
Condition: Drives well
Originality: New paint, dash pad, CD player Accessories included: Radio, Whitewall Tires, "Dog Dish" Hub Caps, Two-tone Paint, Notes:
Original family owner. My grandparents bought this car new, garaged it, and gave to me in 1996. Its been garaged all its life. The interior is all original with a few rips in the front seat. A radio with a CD player was added under the dash, with no damage to the dashboard. The dashpad was just replaced and is perfect. The car has been painted once and has only very minor surface rust around two wheel wells. The mileage on the car is a little low because the odometer/speedometer has stopped working as of a few years ago. I start the car about 4 times a year and drive about 100 miles each year. The engine runs well, is strong, but has never been rebuilt and smokes a bit from the crankcase vent. Brakes are great.
The car is a ready to drive and has been used mainly for annual get togethers and family weddings. It's been a great car and I have finally decided to sell (with no family objections) to make space for a project. I'd like to see it go to a good home / collector.
---
©2009 Edsel.com All Rights Reserved