W9UV725551 <!- 71E NP1 -->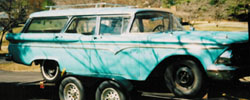 Dataplate specifications
Villager, 4-door 9-pass wagon, Light Aqua with Dark Aqua
Buff/straw vinyl interior

361 Super Express V8, Dual-power 3-speed transmission, 2.91:1 axle ratio
Edsel number 725551 manufactured in Louisville, KY on February 10, 1959
---
Information as of: June 2008

Owner: Roy Butler
Location: San Diego, California
Owned since: April 2004 Mileage: 66,855
Condition: Bearly running/does not drive
Originality: All parts are factory authentic Accessories included: Air Conditioning, Column Automatic Transmission, Overdrive Transmission, Standard Radio, Power Steering, Power Brakes, Whitewall Tires, Seat Belts, Rear Seat Foam Cushions, Padded Sun Visors, Oil Filter, Extra Cooling Fan/Radiator, Hooded Side Mirror, No-Glare Rear-view Mirror, Courtesy Lights, Back-up Lights, License Plate Frames, Glove Box Light, Locking Gas Cap, Other Factory Option, Roof Rack Notes:
Good, solid, restorable condition. The only special option is the 361 Super Express.
Car is originally from VA and has rust down low, but since it is such a low miles car, it didn't get that bad. Solid up on top. 98% all original. This is a very worthy restoration project.
$6500 obo - or trade possible
---
Information as of: March 2004

Owner: Rory Worley
Location: Lynchburg, Virginia
Owned since: February 2004 Mileage: 66,818 (8-27-97)
Condition: Runs, needs restoration
Originality: All parts are factory original Accessories included: Wheel Covers, Power Steering, Power Brakes, Factory Air Conditioning, Heat, Luggage Rack, Back-Up Lights, Electric Clock, Radio, Hooded Mirror Notes:
This Edsel was received by Rory Worley as a payment of an outstanding debt from one of his customers. The license plates on the car expired in 1998. The interior is all original and in good condition, but the front seat is very faded. The interior needs new door panels and a headliner.
The radio works. The engine only runs when gas is poured directly into the carbeurator. The carb was rebuilt in 1997, so it may need a new fuel pump or a fuel line is clogged. The car only has 2 hubcaps. There is no leakage when it comes to oil and transmission fluids. The exhaust system seems to be fairly new. The window on the passengers side door has a small crack in the bottom right corner, but it is hardly noticible. If the car was to be show quality, the luggage rack and bumpers should be re-chromed. The car needs new tires.

Robert E. Finlangr, of Roanoke, VA as the first documented owner, dated in 6/27/75. Other documents show Phil and Ruth Browning as the owners, starting in 1977. The Brownings were big Edsel owners and were members of the Edsel Owners Club in the 1970's-80's. Earl Wilson, documented owner in September of 1997, invested $1522.01 in the car on August 27th, 1997 and the improvements include: Rebuilt carb, new coil, an oil change, new brake fluid, four new wheel cylinders, two belts, one new brake line, three new hoses, and new plug wires. The car has Virginia license plates that are numbered 11-794, and expired in 1998.

The information was provided by Donna Worley, and posted by Ben Scovil.
---
---
©2008 Edsel.com All Rights Reserved