B9UT724482 <!- 71F RR 30 04B 3 3 -->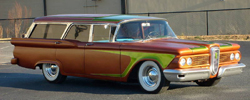 Dataplate specifications
Villager, 6-passenger wagon, Mist Green
Green vinyl/Gold cloth interior

332 Express V8, Mile-o-matic 2-speed transmission, 3.70:1 axle ratio
Edsel number 724482 manufactured in Louisville, KY on February 4, 1959
---
Information as of: February 2009

Owner: unknown (online auction car)
Location: Hoschton, Georgia
Owned since: unknown Mileage: 70,000 (?)
Condition: Drives very well
Originality: Customized Accessories included: Whitewall Tires, Tinted Glass, Oil Filter, Courtesy Lights Notes:
This car spent it's life as a weekend driver in sunny Anaheim California up until 2005 when it made it's way to Atlanta GA where it sat in a garage until we found it in early 2008 and transformed this once unpopular Edsel into the show stopper you see today. The body is rust free. There are no patches or replacement panels at all. Everything is 100% original metal right down to and including the floor pans.
The drivetrain is also original. This wagon is powered by a Ford 332 V8 which produces respectable numbers at 225 HP and 325 ft-lbs of torque. The Mile-0-Matic automatic transmission shifts just as it should.
Both the motor and transmission in this rare old wagon were sent to a reputable rebuilder and completely rebuilt back to factory specs just prior to the car coming to GA. Very few miles have been put on this car since that time.
---
Information as of: August 2008

Owner: unknown (online auction car)
Location: Buford, Georgia
Owned since: unknown Mileage: 99,618
Condition: Drives very well
Originality: Minor customization Accessories included: Whitewall Tires, Tinted Glass, Oil Filter, Courtesy Lights Notes:
This car has a "brand new" peach color paint job, brand new chrome wheels with baby moons, new wide whitewall tires, factory Ranger V8 motor was rebuilt in 1999 and the 2-speed transmission was rebuilt in 2001 (have all receipts).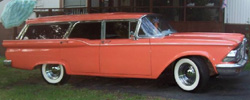 This car runs and drives very good for its age. The body is excellent, very straight and 99% complete. The interior needs a headliner, seats recovered, carpet. I have all the interior trim to finish it.
---
Information as of: June 2006

Owner: Stephen Hand
Location: Atlanta, Georgia
Owned since: May 2006 Mileage: unknown
Condition: Drives very well
Originality: Minor customization Accessories included: Whitewall Tires, Tinted Glass, Oil Filter, Courtesy Lights, Back-up Lights Notes:
You really can get everything on Ebay! I bought the car and most of the work had already been done to it. I've since placed the interior back into the car and am looking to make a custom interior. Added some Coker classic rims and whitewalls that came in the back of the car. Tinted all of the windows except for the front windshield.
The car is driving fairly well and gets a lot of looks wherever it goes. I have not yet tried to drive it more than 25 miles away from my house but I am sure that it would make it without much problems. It actually managed to win a prize at the car show that I attended without me even registering it. Not too bad for owning the car for only two weeks.
---
Information as of: February 2006

Owner: unknown (online auction car)
Location: Atlanta, Georgia
Owned since: unknown Mileage: 100,000
Condition: Runs, needs interior and glass work
Originality: Customized Accessories included: Heater/Defroster, Radio, Back-up Lights Notes:
I am just testing the market with this project of mine that is almost done, with the exception of a new interior and installing the new wheels. This is a solid car originally from California, and now living in Atlanta, Georgia until we ship it to Florida. The body is straight and solid as are the floors/frame. There are just two flat pieces of glass that need to be replaced.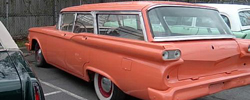 The entire car has been stripped to the bare metal and the body gone over with new custom coral pearl paint applied as of this month. All the trim was removed and the holes leaded and smoothed over, so there is no trim other than what you see except for a new chrome tailgate handle and a set of new reproduction 59 Cadillac taillight units for the back including the back up lights. All chrome has been painted over including the complete grille and steering wheel horn ring.
The car has brand new Coker WWW radial tires and 4 brand new smoothy chrome street rod rims inside the car ready to mount now that the paint/bodywork has been done. The car runs and drives well and has had a motor rebuild and transmission rebuild by the previous owner a couple of years ago. I have not put any mileage on it since the work was done other than driving it around the yard.
It has the original 292 v8, auto, new rad and related mechanical parts, new brake system, new suspension parts and the car has been lowered as well. This was or is going to be our beach car for our vacation home in South Florida. It was at the shop for 6 months.
---
Information as of: May 2004

Owner: unknown (online auction car)
Location: Anaheim, California
Owned since: unknown Mileage: 98,000
Condition: Drives well, needs minor restoration
Originality: New upholstery Accessories included: Heater/Defroster, Radio, Back-up Lights Notes:
I actually bought this vehicle to with hopes of restoring it for myself. The vehicle was a daily driver of a friend of mine, and I bugged him for a couple of years to sell me the car. He drove it every day as his only transportation. He said it was dependable and in fact drove it from Orange County California to the San Fernando Valley very often, which is quite a trip. I've only had it a little while, but it seems like a good driver - starts every time, warm or cold, drives fine, handles ok (for a big car) and generally performs well enough to use when I need it. I just don't need it.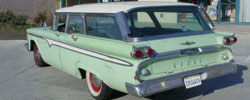 I have receipts for an engine rebuild in 1999 (unsure of the mileage at that point) and a transmission rebuild in 2001 at 82,000 miles. I also have receipts for a starter in 2003 and brakes in January of this year.
Walking around the car, the body is very straight. I see a tiny soft crease-type dent on the front of the hood, and a small dent in the driver's side tail light housing and the body just behind it - small stuff. The bumpers are free of any major dents, and have maybe a couple of small dings here and there - again, nothing major. All chrome and trim is present. The windshield has wiper scratches that may or may not be able to be polished out. The driver's door flat glass is broken, and one other roll-down window has a small 1/4" nick, but the rest of the glass looks fine. The doors, hood, rear hatch and glass all open and close well. On the body, there is one small rusted hole just behind the drivers front wheel. There is also some bubbling near the door bottoms and some rust marks behind some of the stainless trim, but no rust-through, so I would think this would be an easy fix. The car has the accessory wind deflectors in back and two driver's outside mirrors, for some reason. A set of the correct Edsel hubcaps is included, but my friend liked the car with the caps shown in the photos, so that's what's on it now. Generally, the outside looks worn but complete.
Inside, the car is again complete, but tired and worn. The front seat has a huge hole where the driver sits, making for an interesting driving experience. Some new stuffing will be needed when upholstery is done. The interior was originally green, but has been redone in black.&nbsp They did a good job, but the black is chipping and peeling here and there. The door panels are quite worn, but a nice set of 4 door panels in the correct green is included (although they say "Ranger" instead of "Villager" on them). The headliner is in nice shape.
The turn signals, head and tail lights, interior courtesy light, dash lights, speedometer and odometer all work. The radio is reportedly in working order, but has been disconnected and a modern day tape deck is mounted in the glove box. The heater fan motor blows, but I haven't checked the heater further than that. The gas and temperature gauges and the clock don't work. The parking brake handle is dangling loose, but will release the brake. The horn does not work although everything is there for it, and the wipers have a mind of their own. They will work when they want to, but then again, sometimes not.
The floors show rust holes front and rear under the rubber mats and should be repaired or replaced. The largest holes I see are about the size of a silver dollar. If I kept this car I would just drive it this way until the floors got worse, then decide what to do at that point. I have seen (and owned) worse, and this is a common problem for Edsels even from California.
The car starts and runs, warm or cold. I have noticed a hesitation on acceleration from a stop, and the car sometimes has an occasional miss when idling but generally runs smooth. There is a bit of wire holding the distributor in one position, so maybe the vacuum advance needs work. I haven't done anything to this to check what that's all about. There's a small exhaust leak at one manifold which goes away when the car warms up. The car shifts ok. The brakes work fine, but pull a bit to one side, but not badly. There is an oil leak when parked, about a 3 or 4 inch spot overnight. I haven't known the car to overheat or act up in any strange way, but it could definitely use at least a tuneup. The exhaust system sounds fine, but an extra muffler still in the box is included for this car.
Clear title and California registration paid until February 2005.
---
©2009 Edsel.com All Rights Reserved