W9UF723341 <!- 58D 55 23 28A 3 5 -->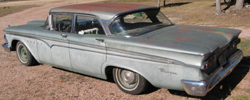 Dataplate specifications
Ranger, 4-door sedan, Jadeglint Green Metallic
Green vinyl/green cloth interior

361 Super Express V8, Mile-o-matic 2-speed transmission, 2.91:1 axle ratio
Edsel number 723341 manufactured in Louisville, KY on January 28, 1959
---
Information as of: March 2004

Owner: William H. Young
Location: Custer, South Dakota
Owned since: August 2002 Mileage: Under 40,000
Condition: Runs and drives
Originality: All parts are factory authentic for the car Accessories included: Heater/Defroster, Column Automatic Transmission, Standard Radio, Power Steering, Power Brakes, Whitewall Tires, Clock, Oil Filter, Back-up Lights, Glove Box Light, Locking Gas Cap Notes:
I bought it after it had been setting since 1989. I then had a complete tune-up and brake job done. I try to drive the car at least once a week. The odometer didn't work when I bought the car. The owner I bought it from said it had just quit working, and it read 34,500.
I have driven it approximately 1000 miles. The body is straight and plans for this summer are to paint the car, find hubcaps, fix the odometer and start restoring the interior.
---
©2009 Edsel.com All Rights Reserved