B9UT722538 <!- Second line -->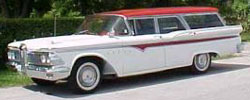 Dataplate specifications
Villager, 6-passenger wagon, Snow White with President Red
Red vinyl interior

332 Express V8, Automatic transmission
Edsel number 722538 manufactured in Louisville, KY
---
Information as of: July 2003

Owner: Ted and Robin Vernon
Location: Miami, Florida
Owned since: unknown Mileage: 93,118
Condition: Drives well, needs minor restoration
Originality: New interior, motor Accessories included: Radio, Wheel Covers, Back-up Lights Notes:
390 Motor. Good condition but having some imperfections in the paint. Body is straight, paint does shine, chrome bumpers have some minor pitting and the vehicle does have a few minor areas with rust as it is expected being a 1959 car. This Edsel is in good condition, runs and drives good, looks good, fun to drive.
---
©2003 BE All Rights Reserved