C9UF722383 <!- Second line -->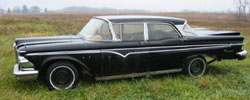 Dataplate specifications
Ranger, 4-door sedan, Jet Black
Buff/straw vinyl interior

292 Ranger V8, Mile-o-matic 2-speed transmission
Edsel number 722383 manufactured in Louisville, KY
---
Information as of: November 2003

Owner: unknown (online auction car)
Location: Northwestern Ohio
Owned since: unknown Mileage: unknown
Condition: Not Running but salvageable
Originality: unknown Accessories included: Radio Notes:
Can be restored or used for parts. Vehicle has been sitting for a number of years, engine does turn over but needs electrical work. Has a newer 2 barrel carburetor and new starter solenoid. Trunk floors and floor boards are very rusty. There is no radio anymore, and there are extra taillights and wheels in trunk. Also included is a new set of shocks still in box. And the keys are also with it.
Windsheild has a bullseye in it and and one of the side glasses is broken. There is plenty of chrome.
---
©2003 BE All Rights Reserved