C9UC722204 <!- Second line -->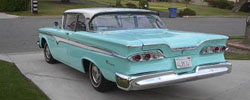 Dataplate specifications
Ranger, 2-door sedan, blue
Blue vinyl/blue cloth interior

292 Ranger V8, Mile-o-matic 2-speed transmission
Edsel number 722204 manufactured in Louisville, KY
---
Information as of: February 2003

Owner: unknown (online auction car)
Location: Arcadia, California
Owned since: unknown Mileage: 58,867
Condition: Runs and drives well
Originality: New green paint and upholstery Accessories included: Heater/Defroster, Standard Radio, Clock, Wheel Covers Notes:
Chrome is shiny, but has some pits. Rear bumper has chrome missing on the right rear end. No dents on new PPG Seafoam Green paint. New carpet, re-uplolstered interior with vintage green and blue cloth and vinyl. Clock and horn are not working, and the horn ring is broken. No broken glass, although the windshield has bullseyes. All lamps are working as is the heater. New battery, some new weatherstrip, good tires, and no rust on this California car.

A very complete vehicle.
---
©2003 BE All Rights Reserved