B9UW721834 <!- 63B AA 40 21A 3 5 -->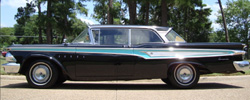 Dataplate specifications
Corsair, 2-door hardtop, Jet Black
Gold vinyl/black cloth interior

332 Express V8, Mile-o-matic 2-speed transmission, 2.91:1 axle ratio
Edsel number 721834 manufactured in Louisville, KY on January 21, 1959
---
Information as of: August 2008

Owner: Henry Nieuwenhuis
Location: Lakeland, Florida
Owned since: July 2008 Mileage: 47,051
Condition: Drives well, needs minor restoration
Originality: Stock, with some updated parts Accessories included: Lever-Temp Heater/Defroster, Column Automatic Transmission, Radio, Power Steering, Power Brakes, Whitewall Tires, Wheel Covers, Electric Wipers, Parking Brake Warning Light, Positive-Action Windshield Wipers, Windshield Washer, Padded Sun Visors, Oil Filter, Hooded Side Mirror, Courtesy Lights, Back-up Lights Notes:
I just purchased this car. I am not sure the engine is original. The block and heads are red. I've been told they should be black, so I am thinking it's been changed at some point. I don't know where to look on the block to find the engine serial no.
---
Information as of: June 2008

Owner: unknown (online auction car)
Location: Dallas, Texas
Owned since: unknown Mileage: 47,171
Condition: Drives very well
Originality: Turquoise-painted scallop and trim, vented air cleaner Accessories included: Radio, Power Steering, Power Brakes, Whitewall Tires, Wheel Covers, Hooded Side Mirror Notes:
Interior is in nice original shape. The carpeting is clean, the headliner is recent, and all of the weatherstrip seals up well. The dash and original brightwork/gauges are in exceptional condition. The gauge faces are clean and the chrome has a great shine to it without the typical pitting problems.
The engine compartment is dry and and in good condition. The firewall and inner fenders are solid. The 332 c.i. V8 starts up easy and runs good. This car runs down the road, stops, and steers as it should. It is turn key and ready to enjoy.
---
©2008 Edsel.com All Rights Reserved