C9UF720768 <!- 58D RR 23 15A 3 1 (from photo) -->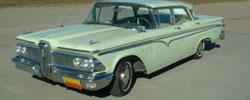 Dataplate specifications
Ranger, 4-door sedan, Mist Green
Green vinyl/green cloth interior

292 Ranger V8, Mile-o-matic 2-speed transmission, 3.10:1 axle ratio
Edsel number 720768 manufactured in Louisville, KY on January 15, 1959
---
Information as of: December 2003

Owner: unknown (online auction car)
Location: Lexington, Nebraska
Owned since: 1963 Mileage: 74,188
Condition: Runs and drives well
Originality: Once repainted, Once reupholstered Accessories included: unknown Notes:
It has been in the same family for 40 years. It was purchased as a one-owner used car from the Ford dealer, with approximately 57,000 miles on it in the early 1960's by the present owner's father, who drove it sparingly for a few years, and the mileage is now 74,188. It looks to be original, but it has been repainted and re-upholstered once, quite a few years ago. It has been used very little since, strictly for parades, etc. and has always been garage kept. When I test drove it, the speedometer was not working, so the miles cannot be certified, but the owner assures me that they are accurate, and the odometer has not turned over or been altered.

The panel lights, turn signals, gas gauge, radio heater and defrost are not coming on, so assume there is some work that needs to be done to these items to revive them. There overall condition seems to be fine, so I am betting this is a minor thing such as fueses, bulbs, or bad connections. The windshield has a crack in it across the middle, but the rest of the glass is excellent, and all the cranks work good. The wipers seemed to be a little short of vacuum, but they worked.

I drove it several miles and ran it past 85 mph! It drives good for this vintage car. The motor sounds fine and the brakes are OK. The front tires are new 205/75R14 Goodyear Integrity radials, and the back are Michelin Radial XH in good condition.
---
©2003 BE All Rights Reserved