C9UC720159 <!- 64C AE1 50 13A 3 1 -->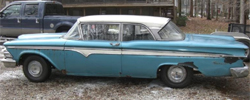 Dataplate specifications
Ranger, 2-door sedan, Jet Black with Snow White
Silver vinyl/black Signet cloth interior

292 Ranger V8, Mile-o-matic 2-speed transmission, 3.10:1 axle ratio
Edsel number 720159 manufactured in Louisville, KY on January 13, 1959
---
Information as of: January 2010

Owner: unknown (online auction car)
Location: Gambrills, Maryland
Owned since: unknown Mileage: 91,550
Condition: Runs, needs some restoration
Originality: Repainted metallic blue with white Accessories included: Radio, Wheel Covers Notes:
Selling this car for a friend of mine who purchased it from an estate sale. The car was stored for many years inside a garage that was situated on the estate property.
It does run and drive but is in need of some TLC. A new fuel pump, fan belt, several hoses, new battery and 4 brand new tires were installed to get it going again. The engine has good compression, does not smoke or burn any oil. All of the power train looks to be in good condition but a new gas tank will have to be installed. This car would make an excellent candidate for someone just getting into the classic car market.
The trunk also contains a host of extra parts, including the original spare and jack. I don't think there are any missing parts, it's all there. This original Edsel has a very good power train, all the glass looks to be in good condition, the trim mouldings and chrome are good, the dash is good, the headliner is original and in good condition. The blue paint is peeling, leaving the original black paint underneath. The interior has a front seat cover while the back seat is all original. All of the compression readings on the engine were in the normal range and some cylinders were above average. It does not smoke or burn any oil. The transmission does not slip and the fluid is clean and without any burnt odor. There are no weird noises in the rear and the fluid is full.
---
Information as of: April 2001

Owner: Richard A. Milroy, Sr. <!- namfonos@erols.com -->
Location: Annapolis, Maryland
Owned since: November 3, 1979 Mileage: 91,549.3
Condition: Runs (Smokes, and left front cylinder not firing)
Originality: All parts are factory authentic for the car Accessories included: unknown Notes:
The body has been repained blue.
Complete, together, titled, but not driven.
---
©2010 Edsel.com All Rights Reserved