C9UF720079 <!- Second line -->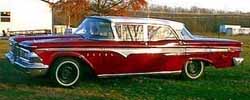 Dataplate specifications
Ranger, 4-door sedan, President Red with Snow White


292 Ranger V8, Mile-o-matic 2-speed transmission
Edsel number 720079 manufactured in Louisville, KY
---
Information as of: November 2001

Owner: RJAutos@webound.com
Location: Lebanon, Missouri
Owned since: unknown Mileage: 113,900
Condition: Runs and drives
Originality: Stock, with updated upholstry Accessories included: unknown Notes:
This car has had a mint spent on it in the last few months! It has a 312 V-8 with a 2-speed automatic trans. The car does run and drive, but has been sitting since 1995, so needs some attention mechanically.

The new parts include a carburetor, starter, battery, fuel pump, new wheel cylinder kits, seats, headliner, and carpet. The paint is about 7 months old (original colors) and has not been buffed out yet, but has a good shine. It has been stored inside since 1995 too. The car was NOT rusty! The floor pans are solid too! The car has some extra parts with it such as 2 taillights (hard to find), 2 hood hinges, and a grill. The chrome is decent also. The wipers and heater work, too. The car drives and handles good for a 42-year-old car. It sits up good and is solid when you shut the doors. It is suppose to be a numbers matching car, but I have not verified this yet myself.

The motor needs some attention as it smokes when started and does have a little miss. Possibly a tune up, but probably a valve sticking. The transmission shifts fine. The windshield is cracked and the wing glass on the passenger front door is cracked also. The rear bumper has some scratches on it. There are no hubcaps.
---
©2008 Edsel.com All Rights Reserved