C9UF719940 <!- 58D FE1 50 12A 3 1 -->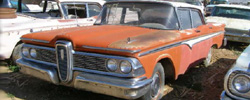 Dataplate specifications
Ranger, 4-door sedan, President Red with Snow White
Silver vinyl/black cloth interior

292 Ranger V8, Mile-o-matic 2-speed transmission, 3.10:1 axle ratio
Edsel number 719940 manufactured in Louisville, KY on January 12, 1959
---
Information as of: August 2008

Owner: unknown (online auction car)
Location: Delta, Colorado
Owned since: unknown Mileage: unknown
Condition: Salvageable
Originality: unknown Accessories included: Radio, Wheel Covers Notes:
This car is original and complete. There is very little rust - the floors and body are solid. The trim is complete. It's a straight clean car.
The interior is complete and pretty decent. Does need some work. There is glass that is cracked, including a busted windshield. Dash is complete. Does not run at this time. Pretty nice original car.

This is part of a large auction being held August 15th, 16th, and possibly 17th, 2008 in Delta, Colorado.
---
©2008 Edsel.com All Rights Reserved