C9UF719730 <!- 58D EE 23 12A 1 2 -->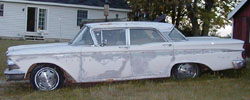 Dataplate specifications
Ranger, 4-door sedan, Snow White
Green vinyl/green cloth interior

292 Ranger V8, 3-speed manual transmission, 3.56:1 axle ratio
Edsel number 719730 manufactured in Louisville, KY on January 12, 1959
---
Information as of: July 2003

Owner: Nathan Lockwood
Location: Detroit, Michigan
Owned since: 1998 Mileage: 80,000
Condition: Drives, but needs restoration
Originality: unknown Accessories included: Radio, Back-up Lights Notes:
Needs a loving home. This car was purchased in 1998 and used a daily driver until 2000. Engine runs good. The rear main does leak, though. Needs clutch adjustment. Other then that it's machanically sound.

Cosmetically needs some work. Mostly surface rust with a couple holes (thanks to MI salt storms in the winter). Front bumper has a tear. Trim's ok (some dents) and the glass is all good. I had hopes of fully restoring it, but do not have the time/effort to put towards it.
---
©2003 BE All Rights Reserved