C9UG718813 <!- 63F LE1 24 06A 3 1 -->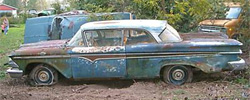 Dataplate specifications
Ranger, 2-door hardtop, Star Blue Metallic with Snow White
Blue vinyl/blue cloth interior

292 Ranger V8, Mile-o-matic 2-speed transmission, 3.10:1 axle ratio
Edsel number 718813 manufactured in Louisville, KY on January 6, 1959
---
Information as of: December 2008

Owner: unknown (online auction car)
Location: Malvern, Ohio
Owned since: Mileage: 17,553 (Most likely 117,553)
Condition: Salvageable
Originality: Non-Edsel mirrors, hub caps Accessories included: Radio Notes:
This was a running car before it was parked. All glass and chrome is there.
Repair or use as a parts car. Very solid all around, straight with no sagging areas. The doors open and close with ease. Front tires are flat.
---
©2008 Edsel.com All Rights Reserved