A9UC718577 <!- Second line -->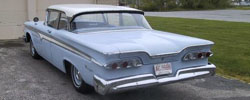 Dataplate specifications
Ranger, 2-door sedan, Jet Stream Blue with Snow White
Blue vinyl/blue cloth interior

223 Econo-Six, Mile-o-matic 2-speed transmission
Edsel number 718577 manufactured in Louisville, KY
---
Information as of: June 2007

Owner: unknown (online auction car) <!- Scot Allyn -->
Location: Lorain, Ohio
Owned since: 1998 Mileage: 81,900
Condition: Daily driver
Originality: New interior and paint to original specs Accessories included: Radio, "Dog Dish" Hub Caps, Two-tone Paint, Remote Controlled Side Mirror, Aftermarket Visor Notes:
In the nine years I've had this car I've done just about everything, including interior, exterior, motor, transmission and brakes. It's been parked outside for a few years, so rust is starting to come through the paint.
The 223-cubic inch engine runs well on regular gas. Cylinder head rebuilt and new carburetor installed three years ago. Engine work includes new rings, main and rod bearings, new oil pump four years ago, but the mechanic's expertise did not equal their enthusiasm and the rear main seal leaks. A Pertronics Ignitor distributor and coil were installed. New radiator installed in 1999 and new generator and water pump installed 2005. A gas tank from a Texas car was acquired in 1999, boiled out, relined and installed.

The two-speed automatic was professionally rebuilt in 2002 and shifts beautifully. Manual steering and manual brakes. New front coils and rear leaf springs and four new shocks were installed in 1999. Brakes were re-done in 2003 with four new wheel cylinders and shoes.
Bodywork in 1999 included new floors and trunk floor. Front fenders and rear quarter panels from Texas and California cars were installed the same year and car completely stripped of chrome and painted in original color combination. Rust has started to come through around wheel openings and door bottoms. Bubbling is starting to show up on the bottoms of front fenders and near gas-door opening near rear bumper. Chrome trim has some pitting and stainless has some discoloration. All glass is good, with no cracks and no water leaks, but some bubbling in vent windows. Chrome plating on back bumper is starting to peel.
Interior was re-upholstered in 1999 with original style fabric, crush-grain vinyl and silver piping from SMS Interiors. New interior sun visors were made then, and full-loop carpeting installed. Carpeting has since faded a bit. Front seat has become slightly soiled through normal use (this car is a driver, with thousands of happy miles). Dashboard gauges all work, heater works, and clock works (rebuilt with a quartz movement). Original tube radio was rebuilt and new speaker installed in 1999. Windlace molding, installed in 1999, is starting to come loose. The muffler has rusted and is loud.

Radial tires were installed, one pair (and spare) in 1999 and one pair in 2005. Rare 1950's options include a Foxcraft exterior sun visor and Fulton Traffic Light Finder on the dashboard to help you see the traffic lights. Outside rear-view mirror is a genuine 1959 optional remote-control mirror also used on Mercurys. The car has the original owner's manual, and 1959 Ohio license plates. The car runs well and is a pleasure to drive. Having seen it restored to sparkling condition from doubtful origins, and now starting to rust because I can't care for it properly, breaks my heart. It goes down the road in a straight line and will cruise on the highway for hours at 60 mph without overheating.
---
©2007 Edsel.com All Rights Reserved