C9UC717976 <!- 64C EE 50 31M 3 1 -->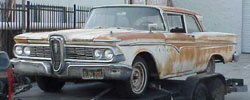 Dataplate specifications
Ranger, 2-door sedan, Snow White
Silver vinyl/black cloth interior

292 Ranger V8, Mile-o-matic 2-speed transmission, 3.10:1 axle ratio
Edsel number 717976 manufactured in Louisville, KY on December 31, 1958
---
Information as of: April 2004

Owner: Mike Frankovich
Location: Los Angeles, California
Owned since: April 4, 2004 Mileage: unknown
Condition: In restoration
Originality: unknown Accessories included: unknown Notes:
Included with the car was the original window sticker, original sales contract, both sets of original keys, original title, and the original cancelled checks from when the car was bought new. The car was sold new at Palmer Lincoln Mercury in Glendale, CA. Both original dealer license frames are on the car, as well as the 1963 issue black California plates.

I hauled it home on April 4, 2004. After installing a coil and carb from a '60 parts car I already had, the 292 came to life. It actually runs very good. I have since pulled the radiator and gas tank to get them redone. A new water pump and fuel pump are to be added, as well as a brake system overhaul.
The car has a lot of surface rust, but is still very restorable. There is some cancer rust in the fenders, but nothing bad. My plans are to make it a nice daily driver.

(Also own Edsels 0U13W702467 and 0U11W700125)
---
Information as of: January 2003

Owner: Dave Palmer
Location: Long Beach, California
Owned since: unknown Mileage: unknown
Condition: Not Running but salvageable
Originality: unknown Accessories included: unknown Notes:
This was my grandfather's car (he was the original owner) and has not run for 12 years. There are body dents and surface rust, but new tires for transport. Original window sticker.
---
©2003 BE All Rights Reserved