C9UG717772 <!- 63F DE1 25 30M 1 2 -->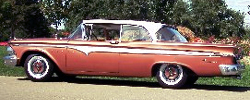 Dataplate specifications
Ranger, 2-door hardtop, Redwood Metallic with Snow White
Buff vinyl/gold cloth interior

292 Ranger V8, 3-speed manual transmission, 3.56:1 axle ratio
Edsel number 717772 manufactured in Louisville, KY on December 30, 1958
---
Information as of: September 2009

Owner: Vic & Edwina Hamersky
Location: Tecumseh, Kansas
Owned since: October 2006 Mileage: 30,050
Condition: Show car
Originality: All parts are factory authentic Accessories included: Air Conditioning, Standard Radio, Rear Speaker, Power Steering, Power Brakes, Whitewall Tires, Wheel Covers with Spinner, Seat Belts, Two-tone Paint, Electric Wipers, Positive-Action Windshield Wipers, Windshield Washer, Rear Seat Foam Cushions, Padded Sun Visors, Oil Filter, Heavy Duty Battery, Dual Exhaust, Exhaust Deflectors, Hooded Side Mirror, Courtesy Lights, Back-up Lights, License Plate Frames, Engine Compartment Light, Luggage Compartment Light, Glove Box Light Notes:
January 2008: The car has been total repainted and inside upholstery. New Cooper tires, whitewalls 2-1/4 inch. 29,000 miles.

September 2009: The car is restored. New carpet and all interior upholstery, many upgraded chrome parts on dash from other Edsel, new rubber around all windows front and back. Some chrome on the car is slightly pitted but in good condition. New compressor for the air conditioner. Had to put an extra filter between the compressor and expansive valve. Also put a white vinyl top on the car.
The car was completely soda blasted to take off all the paint, but it didn't hurt the chrome or glass. Did a very good job in taking off the paint. After paint was removed all that was required was to prime and paint. No sanding and priming then sanding again.
The compressor is from a 2006 Ford truck (or close to that year). Had a hard time coming up with the original color. We finally settled on Mazda Bronze, which is as close as we could come according to the paint company. It has wond several trophies so far this year, including a Best of Show.
---
Information as of: September 1992

Owner: Phil Lynn
Location: Topeka, Kansas
Owned since: unknown Mileage: unknown
Condition: Drives well
Originality: Stock, with Ford A/C unit Accessories included: unknown Notes:
New wide white walls, new brakes with silicon fluid.
Some lower rear quarter damage.

<!- P HR P --> <!- A HREF= http: www.vector11.com/edselcom/gallery/e59/e5971772.jpg Gallery Link /A --> <!- P HR P -->
---
©2009 Edsel.com All Rights Reserved