C9UF717651 <!- Second line -->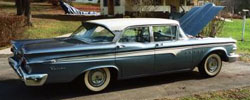 Dataplate specifications
Ranger, 4-door sedan, Star Blue Metallic with Snow White
Blue vinyl/blue cloth interior

292 Ranger V8, Mile-o-matic 2-speed transmission
Edsel number 717651 manufactured in Louisville, KY
---
Information as of: January 2007

Owner: unknown (online auction car)
Location: Leechburg, Pennsylvania
Owned since: Around 1985 Mileage: 50,483
Condition: Drives well, needs minor restoration
Originality: unknown Accessories included: Radio, Whitewall Tires, Wheel Covers Notes:
The Edsel was my grandfather's that was left to me when he passed, for I was the one who drove him to the shows when he was unable to drive anymore. He bought the car in the mid-80's and did a total restore on it. All the paint was sanded off to bare metal. The engine was rebuilt by Ford in Johnston, PA. There is new upholstery in it. The paint is blue metallic clear coat with snow white roof. This vehicle has never seen rain it is kept in the heated garage that was built just for it. I replaced the water pump a couple of years ago, oil is changed every spring it has a new regulator on it. It is going to need tires because they are old (not worn, just old). There is some chrome coming off on the rear bumper - very hard to see unless you stand just right - and one small tear in the headliner from hauling it back during restoration (the wind caught it). Other then that it needs a wash and to be driven or shown. There are some parts that will go with it - a windshield that does have a ding in it, a rear glass that is fine, a rebuilt fuel pump, and some hubcaps.

I took it to three shows this past summer but I am not interested in sitting there all day. I would like to see someone get it who will enjoy it.
---
©2007 Edsel.com All Rights Reserved