B9UR717204 <!- Second line -->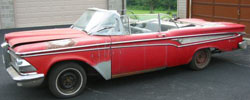 Dataplate specifications
Corsair, convertible, President Red
Red/Black vinyl interior

332 Express V8, automatic transmission
Edsel number 717204 manufactured in Louisville, KY
---
Information as of: June 2006

Owner: unknown (online auction car)
Location: Export, Pennsylvania
Owned since: unknown Mileage: 60,767
Condition: Salvageable
Originality: unknown Accessories included: Radio Notes:
The car was purchased as a restoration project but I just don't have the time. It's in need of restoration, but the basics are all there. The car needs new rocker panels, lower quarter panel repair on the driver side and lower right fender repair. There is also some rust repair that needs to be done on the floor area under the rear seat. I have replacement rocker panels which will be included in the sale. The car is missing the front window molding. Because the car sat for many years, the gas tank was removed and will be included with the sale. The radiator was removed, and will need to be recored, will also be included.
The car was started, and ran with a temperary fuel source. The brakes are non-operative. I have not tested the convertible top to see if it is working.

In the right hands, this car can be an easy restoration.
---
©2006 Edsel.com All Rights Reserved