C9UG716746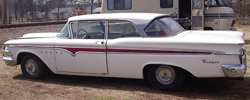 Dataplate specifications
Ranger, 2-door hardtop, Snow White with President Red
Silver vinyl/black cloth interior

292 Ranger V8, automatic transmission
Edsel number 716746 manufactured in Louisville, KY
---
Information as of: March 2010

Owner: unknown (online auction car)
Location: McCrory, Arkansas
Owned since: unknown Mileage: 100,000
Condition: Runs, needs minor restoration
Originality: New upholstery Accessories included: Wheel Covers Notes:
Interior is in good shape. No tears, recently upholstered. Has drop-in air in floor board but does not work. All glass is in good shape. No leaks from any of the glass. Has some paint chips around the molding but it does not have any dents. It starts and runs and sounds good. Needs tires. The last time it was titled was in 2004.
---
©2010 Edsel.com All Rights Reserved