C9UG716175 <!- Second line -->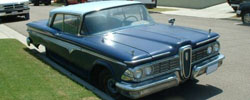 Dataplate specifications
Ranger, 2-door hardtop, Jet Stream Blue
Blue vinyl/blue cloth interior

292 Ranger V8, Mile-o-matic 2-speed transmission
Edsel number 716175 manufactured in Louisville, KY
---
Information as of: June 2007

Owner: unknown (online auction car)
Location: Spring Valley, California
Owned since: unknown Mileage: 82,634
Condition: Not Running but salvageable
Originality: New paint (two-tone dark blue over light blue) Accessories included: Radio, Wheel Covers, Windshield Washer Notes:
The car ran several years ago when it was parked and the engine turns over freely when cranked. The car is basically in original condition although the front seat has been reupholstered and the exterior has been repainted a long time ago. The electrical system has been checked and the basic wiring seems very sound. All exterior lights work and all of the dash accessories except for the clock work. Power goes to the radio but there is no antenna so I do not know if it works. The car needs some obvious TLC not to mention having the water pump replaced and carburetor rebuilt.

Some exterior chrome has been replaced, however no chrome or moldings are missing. The frame and floors are solid. Some rust in trunk floor and rocker panels.
---
©2007 Edsel.com All Rights Reserved