C9UF715670 <!- 58D RR 23 20M 3 1 -->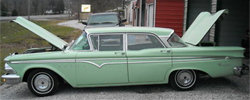 Dataplate specifications
Ranger, 4-door sedan, Mist Green
Green vinyl/green cloth interior

292 Ranger V8, Mile-o-matic 2-speed transmission, 3.10:1 axle ratio
Edsel number 715670 manufactured in Louisville, KY on December 20, 1958
---
Information as of: December 2009

Owner: unknown (online auction car)
Location: Tell City, Indiana
Owned since: unknown Mileage: 88,427
Condition: Runs and drives well
Originality: New upholstery, repainted hood, hidden modern radio Accessories included: Whitewall Tires, Wheel Covers Notes:
"Near-perfect condition. The seats have new upholstery, but the carpet and headliner are the original and in great shape. Car has new radiator and plugs and an AM/FM cassette has been nicely hidden in the glove box. The color is the original color and only the hood has been repainted. Tires have approx 200 miles on them and there is a new spare in the trunk. There is a little rust on the fender but there is no bondo anywhere on the car. The engine really purrs and she runs great. There is some pitting on the chrome in the grill area of the car, all chrome could use a touch up, it is dull. There is a slight dent on the roof just above the drivers door."

---
©2009 Edsel.com All Rights Reserved