A9UF714856 <!- Second line -->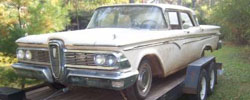 Dataplate specifications
Ranger, 4-door sedan, Desert Tan
Silver vinyl/black cloth interior

223 Econo-Six, Mile-o-matic 2-speed transmission
Edsel number 714856 manufactured in Louisville, KY
---
Information as of: January 2008

Owner: unknown (online auction car)
Location: West Chicago, Illinois
Owned since: unknown Mileage: 86,000
Condition: Drives, but needs restoration
Originality: unknown Accessories included: Radio, Wheel Covers Notes:
This car is all original, does run with a little help. Tires are nice, rims are perfect. Good frame, glass, chrome, trim and sheet metal. The carpet is gone and it does need a fuel line and brakes. I have driven it around my backyard several times. Steering is perfect. Floors are solid as is the trunk. Minor rust on the body panels.
This car originally came from Montana.
---
©2008 Edsel.com All Rights Reserved