C9UG714576 <!- Second line -->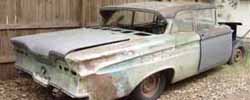 Dataplate specifications
Ranger, 2-door hardtop, Jadeglint Green Metallic
Green vinyl/green cloth interior

292 Ranger V8, Mile-o-matic 2-speed transmission, 3.10:1 axle ratio
Edsel number 714576 manufactured in Louisville, KY on December 16, 1958
---
Information as of: December 2001

Owner: Mike Allmon
Location: Austin, Texas
Owned since: February 14, 1998 Mileage: unknown
Condition: In restoration
Originality: Minor modifications Accessories included: Power Seat, Power Steering, Power Brakes, Electric Clock, Wheel Covers, Factory A/C (from an Edsel wagon). Notes:
December 2001: I wanted a unique car in the beginning and thought restoring a car would be fun. So I found an Edsel in my neighborhood a few years ago and thought it was a great project for myself.
After I bought the car, I realized that there was a lot needed to be done. When I found out that I had to take away significant hours from my weekend, instead of having fun boating, I was spending most of my time restoring it. It was okay in the beginning, until I moved the a newer and nicer neighborhood and my neighbors were giving me the "look" whenever I was working on it during the weekends.
In spite of this, I continued to put a lot of time and restored most of the mechanical parts, making it from a "virtually" piece of undrivable junk to a drivable rustfree car. I ripped apart most of interiors and exteriors, mainly to sand them down and paint them. The floor boards are solid and no rust through whatsoever. No surface rust at all.

July 2000: Had no a/c, will install factory unit from a wagon parts-car, no compressor or pulleys for the 292 yet. Seat mechanism came from wagon. 2 parts wagons. Town/country radio from wagon, works.
---
©2001 BE All Rights Reserved