C9UF714458 <!- 58D DD 25 16M 3 1 -->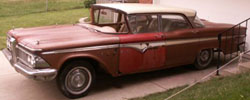 Dataplate specifications
Ranger, 4-door sedan, Redwood Metallic
Buff vinyl/gold cloth interior

292 Ranger V8, Mile-o-matic 2-speed transmission, 3.10:1 axle ratio
Edsel number 714458 manufactured in Louisville, KY on December 16, 1958
---
Information as of: June 2007

Owner: Tad Petrie
Location: East Peoria, Illinois
Owned since: June 2007 Mileage: 119,600
Condition: Not Running but salvageable
Originality: All parts are factory authentic Accessories included: Lever-Temp Heater/Defroster, Column Automatic Transmission, Radio, Wheel Covers, Oil Filter, Back-up Lights Notes:
I found this car on a hotrod website, it is original but in bad shape. I don't know what I am going to do with it. I would like to find a good home for her; a coworker has ideas of a demolition derby car.

The car is how I received it. It has an Illinois title. I initially bought this for parts but feel it is too nice to destroy. The body is not great but also is not very bad - bad spots are the driver side rocker panel, the floor directly around the seat mount on driver side, sides of the trunk floor. The frame appears to be in good shape as well as the majority of the floorboard. The windshield is currently out of the car but is not broken. The driver's door glass and driver's side rear door glass are both cracked; the rest of the glass in the car is intact. The drivers door was replaced with a non-color matching door (the original door is in better shape than the replacement door but the door mechanicals will need to be swapped over. The trunk lock is not in the deck lid but I have found it in a zip lock bag in the glove box. There appears to be some extra replacement stainless for the car.

The car does not run. The previous owner stated the engine ran but leaked coolant, and the engine was taken apart but not put back together. Not the original carburetor, but I have it. The passenger side exhaust manifold has a mounting tab broken off it. The transmission is in unknown condition. The tires are old bias ply that are weather checked and should be replaced. I can not verify the condition of the brakes other than it has a high hard pedal and doesn't drop to the floor.

The interior is missing the carpet, the seats and sun visors need to be recovered, and the gauge and dash assembly appears to be complete. The car has a new Ford ignition switch that is not mounted in the dash but is connected to the wiring harness. There is a replacement bezel for the instrument cluster included. The dash has a clock and standard AM radio.
---
©2007 Edsel.com All Rights Reserved