C9UF714436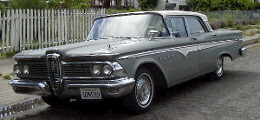 Dataplate specifications
Ranger, 4-door sedan, Platinum Gray Metallic with Snow White
Silver vinyl/black cloth interior

292 Ranger V8, Mile-o-matic 2-speed transmission, 3.10:1 axle ratio
Edsel number 714436 manufactured in Louisville, KY on December 16, 1958
---
Information as of: September 2001

Owner: Adam & Alice Hennessy
Location: Woodland, California
Owned since: September 1999 Mileage: 97,942
Condition: Drives well, needs cosmetic restoration (paint, re-chrome, etc.) No major body damage or rust.
Originality: Stock, except for aftermarket battery and radial tires. Accessories included: Standard Radio, Hooded Mirror, Lever-Temp Heater/Defroster, Clock, Whitewall Tires, Wheel Covers (wrong year for now, but soon to change to correct year) Notes:
We are enjoying the restoration process, the meeting of all the great people and looking for the hard-to-find stuff.
---
©2001 BE All Rights Reserved