C9UF713691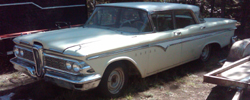 Dataplate specifications
Ranger, 4-door sedan, Petal Yellow with Snow White
Buff vinyl/gold cloth

292 Ranger V8, Mile-o-matic 2-speed transmission, 3.10:1 axle ratio
Edsel number 713691 manufactured in Louisville, KY on December 12, 1958
---
Information as of: April 2016

Owner: Frank & Kristie Rauhuff
Location: La Pine, Oregon
Owned since: April 2016 Mileage: 91,879
Condition: Not Running but salvageable
Originality: All parts are factory authentic Accessories included: Column Automatic Transmission, Standard Radio, Spotlight Notes:
Purchased this as a project car. I will be restoring as I can.
The body is in really good condition considering it is over 50 years old. The interior is really sad but redoable. Some other minor cosmetic work needs done on the outside.
I will find out more as I get into the project.
---
Information as of: January 2010

Owner: David & Patricia Edwards
Location: La Pine, Oregon
Owned: July 2009 - April 2016 Mileage: 91,879
Condition: Not Running but salvageable
Originality: All parts are factory authentic Accessories included: Column Automatic Transmission, Standard Radio, Spotlight Notes:
I rescued this car from going to the crusher. The guy that had it was taking it to crusher because he could not find anyone to buy it. The body is in really good condition considering it is 50 years old. The interior is really sad but redoable. Its engine needs to be rebuilt which is a project for next summer (I hope).
Glass is all good except for the windshield (which I am finding is gonna be hard to find a replacement for).

<!- P HR P --> <!- A HREF= http: www.vector11.com/edselcom/gallery/e59/e59713691.jpg Gallery Link /A --> <!- P HR P -->
---
©2016 Edsel.com All Rights Reserved