W9US713138 <!- 58B EA1 40 11M 3 5 -->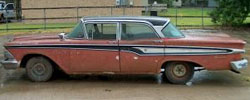 Dataplate specifications
Corsair, 4-door sedan, Snow White with Jet Black
Gold vinyl/black cloth interior

361 Super Express V8, Mile-o-matic 2-speed transmission, 2.91:1 axle ratio
Edsel number 713138 manufactured in Louisville, KY on December 11, 1958
---
Information as of: August 2003

Owner: unknown (online auction car)
Location: Lufkin, Texas
Owned since: unknown Mileage: unknown
Condition: Not Running but salvageable
Originality: unknown Accessories included: unknown Notes:
The motor doesn't run but is not frozen up. The engine accessories are in the trunk and the bolts are separated and labeled as to where they fit. The car has the factory Air Conditioning unit that mounted underdash and is complete with the compressor.

The car is solid and straight. There is some rust under both front doors at the bottom edge of the body. Almost all of the trim parts are here, missing two hood pieces and one trunk small trim piece. The trim all around the top of the car is very straight except one small ding in one piece on the driverís side at the top roof molding. The grille and front bumper is in very good condition, the rear bumper is bent but very restorable.

The front and back windshields are good, there is one spot in the corner of the front windshield about the size of a quarter that has a small spiderweb look, I believe is between the laminations, but is not very noticeable. The door glass is good except for the driverís door glass that is broken.

The interior is in good condition. Both front and rear seats are complete with the original upholstery with no tears. The headliner is still intact and tight but does have one place that is cut about 6 inches long on the driverís side by the top of the door, not out in the middle. Could probably be repaired.
---
©2003 BE All Rights Reserved