W9UT712758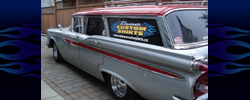 Dataplate specifications
Villager, 4-door 6-pass wagon, Redwood Metallic with Snow White
Buff/straw vinyl interior

361 Super Express V8, Dual-power 3-speed transmission, 2.91:1 axle ratio
Edsel number 712758 manufactured in Louisville, KY on December 9, 1958
---
Information as of: March 2009

Owner: www.elainescustomshirts.ca <!- mailto:gearheadshirts@telus.net -->
Location: Port Coquitlam, British Columbia, Canada
Owned since: May 2003 Mileage: unknown
Condition: Drives very well
Originality: Modified with non-Edsel components Accessories included: Lever-Temp Heater/Defroster, Column Automatic Transmission, Radio, Power Steering, Power Brakes, Two-tone Paint, Electric Wipers, Parking Brake Warning Light, Windshield Washer, Padded Sun Visors, Dual Exhaust, Back-up Lights, Roof Rack Notes:
Two-tone silver and red paint non-original colors, FE block bored out to 390ci. with a 390 crank, balanced, RV cam, double roller timing chain, high volume oil pump. Aluminum 4bbl manifold on propane. C6 transmission with a shift kit and high stall torque converter. Electronic distributor. Brakes- rotors, calipers, spindles and master cylinder from a 1969 Ford station wagon, with Granada brake booster.

Since purchasing in May 2003 we have updated with new chrome reverse rims with baby moons, Pioneer stereo/cd player, GPS, redone and installed roof rack, changed rear tail lights and back up lights to 1959 Cadilac with blue dots and clear lenses for back up lights, installed new Monroe spring helper shocks, tinted side and rear windows. Installed vinyl graphics for Elaines Custom Shirts, as we use this vehicle to attend car show events to sell custom made hot rod shirts.

This Edsel has proven to be a very reliable car that has served us well for the last 6 years with regular maintenance.
---
Information as of: April 2003

Owner: Wayne Chenery
Location: Summerland, British Columbia, Canada
Owned since: unknown Mileage: unknown
Condition: Good running daily driver
Originality: Customized modifications Accessories included: unknown Notes: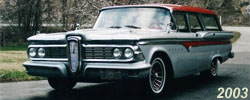 Recently painted non-original colors, 390 with aluminum 4bbl manifold on propane since rebuild eleven years ago, C6 with shift kit, redone interior, still serviceable. The glass and chrome are in reasonable shape, some pits and dings, but still presentable. This car has been used as a daily driver for 10 years and has power steering and power disc brakes. It has been maintained on a regular basis and has proven to be very reliable.
This is not an original show car, but is a very presentable driver. It presently has a newer stereo, but comes with original radio, gas tank and roof rack. Can be put back to gasoline power with little difficulty.

<!- P HR P --> <!- A HREF= http: www.vector11.com/edselcom/gallery/e59/e59712758.jpg Gallery Link /A --> <!- P HR P -->
---
©2009 Edsel.com All Rights Reserved