W9UV711817 <!- 71E DD 32 05M 4 5 -->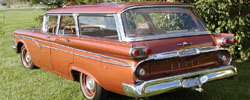 Dataplate specifications
Villager, 9-passenger wagon, Redwood Metallic
Buff/straw vinyl interior

361 Super Express V8, Dual-Power 3-speed transmission, 2.91:1 axle ratio
Edsel number 711817 manufactured in Louisville, KY on December 5, 1958
---
Information as of: July 2003

Owner: Palm Beach Restoration Services
Location: West Palm Beach, Florida
Owned since: February 2003 Mileage: 81,000
Condition: Runs and drives very well
Originality: Stock with updated parts (see notes) Accessories included: Radio, Clock Notes:
Currently being upgraded: Power brakes, power steering, vintage air conditioning, exhaust upgrade, interiour upgrade.

More information on this car is available online, at www.PalmBeachRestorations.com
---
Information as of: November 2002

Owner: MotoExotica (online auction car)
Location: St. Louis, Missouri
Owned since: unknown Mileage: 79,695
Condition: Runs and drives very well
Originality: New paint Accessories included: unknown Notes:
This is a one-family owned car that has been restored back in the 1980's. This car was purchased from the son of the original owner. After spending many years as the family vehicle, the owner's son had the car fully restored.

The engine was rebuilt along with the brakes and other major components. The body was stripped to bare metal and the interior was fully refurbished. The car was then painted in its original color, a wonderful bronze tone. The mileage of 79,695 is actual and the car is in great shape.

The paint has good shine to it but does have a few imperfections on the right rear and left front where the paint is peeling in a small spot. The chrome going around the car has a few small dings but still retains a great shine and luster. The front and rear bumpers show only minor signs of pitting and have a few minor dings but nothing major.

The engine has been completely gone through and it shows when you start it up. It starts with no coughing or hesitation and runs great. There is no power steering or brakes. The engine is as driven but shows no signs of rust to the engine or engine bay. The only problem I am aware of is a slight exhaust manifold leak.

Inside you will find front and rear seats that have no wear to them and carpets with no tears or stains. The rear seats fold down flat so you have plenty of room to put whatever you need in the back. The carpeting shows no wear and is in very good condition in the rear. The front windshield does have a crack on the top about 3" long.

There is a full size spare in the back but no jack. The wheels are in great shape with no signs of curb rash or scrapes. The radial tires still have about 75% tread life left on them. Underneath there are no signs of rust and the frame looks very solid. The exhaust system is new.
---
©2002 BE All Rights Reserved