B9UT711815 <!- 71F ED1 32 05M 3 1 -->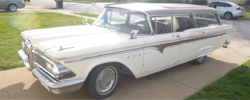 Dataplate specifications
Villager, 6-passenger wagon, Snow White with Redwood Metallic
Buff/straw vinyl interior

332 Express V8, Mile-o-matic 2-speed transmission, 3.10:1 axle ratio
Edsel number 711815 manufactured in Louisville, KY on December 5, 1958
---
Information as of: March 2015

Owner: Timothy & Patrick Kennedy
Location: Virginia Beach, Virginia
Owned since: March 20, 2015 Mileage: 81,625
Condition: Runs and drives well
Originality: Non-Edsel drivetrain Accessories included: Power Steering, Power Brakes, Wheel Covers, Clock, Fender Skirts Notes:
I saw this car and I just had to have it! It's got a 1966 390 with a C6 transmission in it, power brakes, steering and not much else. I'm planning on getting it back on the road this week with a new carburetor and disc brake conversion.
My son and I plan on tackling the body and interior over the next year or so and then painting it mint green and white with a matching interior. We'll be looking for a lot of new parts to make it right. Wish us luck!
---
©2015 Edsel.com All Rights Reserved