A9UF711322 <!- 58D RS1 23 04M 1 2 -->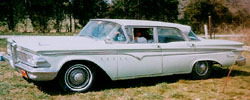 Dataplate specifications
Ranger, 4-door sedan, Mist Green with Jadeglint Green Metallic
Green vinyl/green cloth interior

223 Econo-Six, 3-speed manual transmission, 3.56:1 axle ratio
Edsel number 711322 manufactured in Louisville, KY on December 4, 1958
---
Information as of: April 2003

Owner: Charles TwoDog
Location: Lewisburg, Kentucky
Owned since: March 2003 Mileage: 104,000
Condition: Drives well
Originality: Stock, with some updated parts Accessories included: Heater/Air Conditioner, Column Automatic Transmission, Standard Radio, Rear Speakers, Wheel Covers, Tinted Glass, Electric Wipers, Clock, Foam Seat Cushions, Oil Filter, Dual Exhaust, Oval Side Mirror Notes:
Bought from a salvage yard who had it for sale for four years. They bought it from a soldier from Fort Campbell. We are looking forward to restoring it and showing it. We would love to hear from other owners for hints, tips and show information.
---
©2003 BE All Rights Reserved