B9UW711255 <!- 63B EE 38 04M 3 5 -->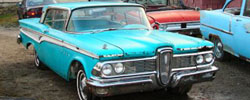 Dataplate specifications
Corsair, 2-door hardtop, Snow White
Light Aqua vinyl/dark aqua cloth interior

332 Express V8, Mile-o-matic 2-speed transmission, 2.91:1 axle ratio
Edsel number 711255 manufactured in Louisville, KY on December 4, 1958
---
Information as of: October 2007

Owner: unknown (online auction car)
Location: Gardner, Massachusetts
Owned since: unknown Mileage: 70,333
Condition: Drives, but needs restoration
Originality: New paint scheme Accessories included: Power Steering Notes:
This car is pretty much original, with the exception of bodywork along both lower sections and a repaint (Turquoise and white). There is bubbling and evidence of prior body work on the lower sections. The frame, floors and body mounts all seem to be nice solid condition which is a big plus. The trunk floor looks good but has a fiberglass matting repair in the center.

Mechanically, the engine will start, run and carefully yard drive. Carefully meaning NO BRAKES. The car has no brakes which is most likely due to leaking brake lines or wheel cylinders. We used an under hood gas can to start and run the engine because the condition of the gas tank and lines were questionable. The car will yard drive onto a trailer. The transmission appears to work, OK. Please, don't ask me if you can drive it home, because you can't.

This car will obviously need a total restoration. I bought the car on a Bill of Sale from a licensed Connecticut Dealer. Connecticut doesn't require titles on any vehicle over 10 years old, so there is no title with the car.
---
©2007 Edsel.com All Rights Reserved