B9UV709147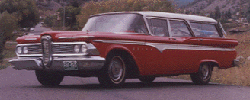 Dataplate specifications
Villager, 9-passenger wagon, President Red with Snow White
Blue vinyl/Gold cloth interior

332 Express V8, Mile-o-matic 2-speed transmission, 3.10:1 axle ratio
Edsel number 709147 manufactured in Louisville, KY on November 22, 1958
---
Information as of: August 2000

Owner: Jeff Schaupp
Location: Pagosa Springs, Colorado
Owned since: unknown Mileage: 64,000
Condition: 3 - Drives very well, needs cosmetics only
Originality: All parts are factory authentic for the car Accessories included: unknown Notes:
This Edsel was given to a Mrs. Olga Little of Bayfield Colorado on Ralph Edwards' T.V. show "This is Your Life" on December 7, 1958. Edna the Edsel has never travelled out of southern Colorado. She has no rust and very few chrome chips or cracks. We've classified this auto as a #3 with possibilities of a #2 rating with minor touch-ups. She's a beauty!
---
©2000 BE All Rights Reserved