B9UT708760 <!- Second line -->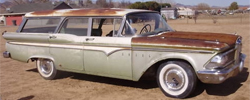 Dataplate specifications
Villager, 6-passenger wagon, Mist Green with Snow White
Green vinyl and cloth interior

332 Express V8, Automatic transmission
Edsel number 708760 manufactured in Louisville, KY
---
Information as of: January 2010

Owner: unknown (online auction car)
Location: Kingman, Arizona
Owned since: unknown Mileage: 81,984
Condition: Runs, but needs restoration
Originality: New upholstery Accessories included: Radio, Power Steering, Power Brakes, Wheel Covers, Back-up Lights Notes:
This is a very restorable old car. This Villager 4 door wagon is an Arizona car and has minimal rust with the exception of surface rust on the hood and top and a little in the rear floorboards where the floor mat was wet. The door panels are pretty good and the front and rear seats have been newly upholstered. The headliner has replacement bows. The car does run and would be a fairly easy restoration or to reburbish. Areas of damage are all minor. The rear bumper is bent but when chromed can be straightened. It has all hubcaps and the only parts missing are two chrome pieces on the leading edge of hood and air cleaner and one letter on the tailgate.
---
©2010 Edsel.com All Rights Reserved