B9UR708751 <!- 76E EE 42 21L 3 5 -->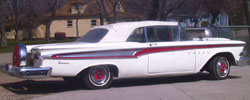 Dataplate specifications
Corsair, convertible, Snow White
Black/Silver vinyl interior

332 Express V8, Mile-o-matic 2-speed transmission, 2.91:1 axle ratio
Edsel number 708751 manufactured in Louisville, KY
---
Information as of: August 2001

Owner: Stan and Sue Johnson
Location: Seneca, Illinois
Owned since: August 2004 Mileage: 98,000
Condition: Drives Well
Originality: Some updated parts Accessories included: Power Brakes, Power Steering, Clock, Radio, Wheel Covers with Spinners Notes:

---
Information as of: August 2001

Owner: Ken Ness
Location: Waubay, South Dakota
Owned since: unknown Mileage: unknown
Condition: Nicely detailed show car
Originality: Redwood Metallic two-tone added Accessories included: Power Steering, Continental Kit Notes:
Beautiful car in excellent condition with no rust. Like-new interior, fresh motor, power steering and continental option package.
Originally all-white. Repaint covers the VIN plate, but it's still readable.
---
©2006 Edsel.com All Rights Reserved