C9UC707933 <!- 64C NE1 25 17L 1 2 -->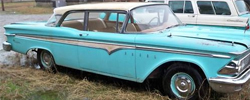 Dataplate specifications
Ranger, 2-door sedan, Light Aqua with Snow White
Buff vinyl/gold cloth interior

292 Ranger V8, 3-speed manual transmission, 3.56:1 axle ratio
Edsel number 707933 manufactured in Louisville, KY on November 17, 1958
---
Information as of: December 2009

Owner: unknown (online auction car)
Location: Osceola, Arkansas
Owned since: 2006 Mileage: 93,551
Condition: Drives, but needs work
Originality: unknown Accessories included: Radio, "Dog Dish" Hub Caps, Two-tone Paint Notes:
Purchased 3 years ago at an estate sale, was stored inside from 1964 until April 2008. I am moving and have lost my place to store. All glass is good, windows roll up and down smoothly, interior is in fair condition. Starts and lot drives, new tires, all chrome is in place. The body is very straight and 99% rust free. Needs a fuel gauge. It will run off an outboard fuel tank, but does not pick up fuel from the tank - either the fuel pump is bad or the line may be stopped up. The brakes worked and I never had to bleed them even though it had been sitting for so long.

I have a 1959 Edsel convertible for sale but it is in poor condition and this one would make a great car to put the two together.
---
©2009 Edsel.com All Rights Reserved