C9UC707677 <!- Second line -->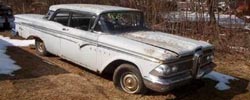 Dataplate specifications
Ranger, 2-door sedan, Moonrise Gray
Black vinyl and cloth interior

292 Ranger V8, Mile-o-matic 2-speed transmission
Edsel number 707677 manufactured in Louisville, KY
---
Information as of: March 2002

Owner: Captain John Transport
Location: Southern Vermont
Owned since: unknown Mileage: 39,000
Condition: Not Running but salvageable
Originality: unknown Accessories included: unknown Notes:
This is either an ambitious restoration project or a parts car.
I'm sure when this car was put in a damp barn in the late 60's it was a beauty! But we know how unfriendly dampness is to our friend, the car. This one is really rusty, although the frame and underneath appear okay. The interior is really nice, just needs cleaning up. The guy I got it from had it running last year.
---
©2002 BE All Rights Reserved