W9UX707483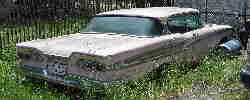 Dataplate specifications
Corsair, 4-door hardtop, Talisman Red (Pink) with Snow White


361 Super Express V8
Edsel number 707483 manufactured in Louisville, KY
---
Information as of: June 2001

Owner: Missy Byrum
Location: Ovilla, Texas
Owned since: May 2001 Mileage: 68,000
Condition: Runs
Originality: All parts are factory authentic for the car Accessories included: Power options, Clock, Wheel covers Notes:
We found this car in a wrecker yard, it was being held in storage and has not been touched in about 12 years. It is in very good condition. We had to trailer it to the shop because the tires would not hold air but it does run, and will more than likely be able to drive on the road.
---
©2001 BE All Rights Reserved