C9UG707390 <!- Second line -->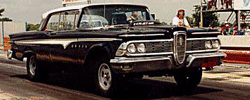 Dataplate specifications
Ranger, 2-door hardtop, Jet Black with Snow White
Silver vinyl/black cloth interior

292 Ranger V8, automatic transmission
Edsel number 707390 manufactured in Louisville, KY
---
Information as of: November 2008

Owner: Charlie Robinson
Location: unknown
Owned since: unknown Mileage: unknown
Condition: Drives VERY well
Originality: Modified drivetrain Accessories included: unknown Notes:
This car holds the title "World's Fastest 1959 Edsel" with a quarter-mile elapsed time of 11.33 seconds at 116 mph (using no nitrous).

ENGINE: Edsel E-475, 12:1 compression, Schneider cam, 800cfm double pumper, MSD HS ignition, 2 Holley pumps, and home-made 2 1/8" headers
TRANSMISSION: Dr.Don C6 with 3500 stall
OTHER: 9" Ford rear end with 4.33:1 gears, homemade traction devices, Olds 442 dual gate shifter, and AutoMeter tach and gauges.

This Edsel has also made an appearance in the USA Network's "The Big Easy".
---
©2008 Edsel.com All Rights Reserved