A9UG706721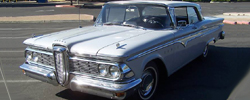 Dataplate specifications
Ranger, 2-door hardtop, Moonrise Gray with Platinum Gray
Silver vinyl/black cloth

223 Econo-Six, Mile-o-matic 2-speed transmission, 3.10:1 axle ratio
Edsel number 706721 manufactured in Louisville, KY on November 11, 1958
---
Information as of: August 2009

Owner: Sean O'Reilly
Location: San Francisco, California
Owned since: July 2009 Mileage: 60,200
Condition: Drives very well
Originality: Stock, with some updated parts Accessories included: Lever-Temp Heater/Defroster, Column Automatic Transmission, Rear Speaker, Rear Seat Foam Cushions, Heavy Duty Battery Notes:
I stole this low mileage, economy minded beauty off of Craigslist Sacramento. Not a show car, but in great 3-4 overall shape. It is just about 100% original, with a few new parts. The prior owners have taken good care of it other than letting it sit a bit too long. I absolutely love it, and am hoping to maintain it to its original condition for a good long time to come. Happy Trails!
---
Information as of: August 2007

Owner: Butch Carr <!- TOWNCARR824@aol.com -->
Location: Kingston, New York
Owned since: August 2007 Mileage: 58,506
Condition: Drives well, needs minor restoration
Originality: Stock, with some updated parts Accessories included: Lever-Temp Heater/Defroster, Column Automatic Transmission, Two-tone Paint, Parking Brake Warning Light, Rear Seat Foam Cushions, Oil Filter, Standard Radio, Rear Speaker, Whitewall Tires, Wheel Covers, Back-up Lights Notes:
Bought it with the idea of making it a 50's fun car, but is in too good a condition for that.

<!- P HR P --> <!- A HREF= http: www.vector11.com/edselcom/gallery/e59/e5958506.jpg Gallery Link /A --> <!- P HR P -->
---
©2009 Edsel.com All Rights Reserved