C9UH706151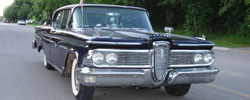 Dataplate specifications
Ranger, 4-door hardtop, Jet Black with Moonrise Gray
Silver vinyl/black cloth

292 Ranger V8, Mile-o-matic 2-speed transmission, 3.70:1 axle ratio
Edsel number 706151 manufactured in Louisville, KY on November 7, 1958
---
Information as of: May 2008

Owner: unknown (online auction car)
Location: Crystal, Minnesota
Owned since: unknown Mileage: 58,699
Condition: Drives very well
Originality: All parts are factory authentic Accessories included: unknown Notes:
We have a clear title for this car. It is an estate car, with all the original black paint in very nice condition (some nicks and scratches). The car runs, drives and brakes very well. The lights, turn signals, dash lights, etc., all work nicely.
The wide whites are slightly weather checked from sitting. All the side chrome is excellent. The front and rear bumpers are good and straight but slight dullness on the top of the bumpers. All the glass is good except one rear window has a crack.
---
Information as of: July 2005

Owner: Richard Tupy
Location: Lonsdale, Minnesota
Owned since: July 2004 Mileage: 58,000
Condition: Drives very well
Originality: All parts are factory authentic Accessories included: unknown Notes:
This car was stored inside a garage in Iowa for the last 35 years. Body is in very good condition. All of the chrome is in 'almost perfect' condition. Runs great too.

<!- P HR P --> <!- A HREF= http: www.vector11.com/edselcom/gallery/e59/e59706151.jpg Gallery Link /A --> <!- P HR P -->
---
©2008 Edsel.com All Rights Reserved