C9UC705453 <!- 64C M 24 04L 3 1 -->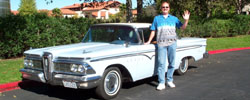 Dataplate specifications
Ranger, 2-door sedan, Jet Stream Blue
Blue vinyl/blue cloth interior

292 Ranger V8, Mile-o-matic 2-speed transmission, 3.10:1 axle ratio
Edsel number 705453 manufactured in Louisville, KY on November 4, 1958
---
Information as of: July 2003

Owner: Walter Bradfield
Location: San Diego, California
Owned since: 1992 Mileage: 121,619*
Condition: Drives well. Plan to rebuild rear end and add power steering.
Originality: Restored to Factory original specs as much as possible. Accessories included: Standard seats with horsecollar cloth, AM radio, clock, wheel covers, Edsel side mirror, and standard heater, no A.C. Notes:
My grandparents in 1960-61, Lakewood, California originally purchased the Edsel. Granny was an original "Edsel Owners Club Member", but in her late 70ís, could drive the car no more (no power steering). The Edsel sat in my sentimental fatherís backyard from around 1982 to 1992. The car was towed to San Diego in 1992 (engine was in pieces). Restoration has progressed in slow stages to the current level of safe roadworthiness.

*500 miles on rebuilt engine and transmission.
---
©2003 BE All Rights Reserved