B9UX704173 <!- Second line -->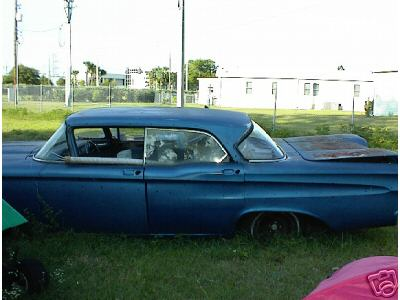 Dataplate specifications
Corsair, 4-door hardtop, Blue


332 Express V8, automatic transmission
Edsel number 704173 manufactured in Louisville, KY
---
Information as of: April 2004

Owner: unknown (online auction car)
Location: Orlando, Florida
Owned since: unknown Mileage: unknown
Condition: Salvageable
Originality: unknown Accessories included: Heater/Air Conditioner, Wheel Covers with Spinner Notes:
Great project car, at least 95% complete. The motor and transmission are said to have been rebuilt, but the last owner has passed on so the rebuild cannot be confirmed. But the absence of grime, grease and dirt on the motor and transmission suggests it's a possibility.
All chrome and interior were removed, as his next move was to paint it. The body has a little surface rust, but no major problems are visible. This one also has factory air.
---
©2004 BE All Rights Reserved