A9UF703836 <!- Second line -->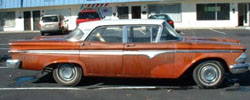 Dataplate specifications
Ranger, 4-door sedan, President Red with Snow White
Buff/straw vinyl interior

223 Econo-Six, 3-speed manual transmission
Edsel number 703836 manufactured in Louisville, KY
---
Information as of: November 2002

Owner: Auto Villa (online auction car)
Location: San Diego, California
Owned since: unknown Mileage: unknown
Condition: Drives, but needs restoration
Originality: unknown Accessories included: Standard Radio, Wheel Covers Notes:
This car has been in storage for over 20 years. It is powered by a 6-cylinder engine that runs very strong, but will need the carburetor rebuilt. It is backed up by a 3-speed standard transmission that is in very good condition. Clutch works great. The brakes seem to be in good working order. We drove this car down the block and back, so we are passing on the info we know to the best of our knowledge.

The body on this Edsel is very straight. There were couple of small dents that we fixed, that's why you see the primer spots. A little surface rust, but nothing major. Almost all the chrome is on the car, just couple af pieces missing on the passenger side. Interior needs new carpet and the seats reupholstered. Still has the original Edsel hubcaps and aircleaner.
---
©2002 BE All Rights Reserved