A9UF703067 <!- 58D SR1 23 21K 1 4 -->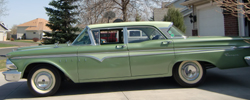 Dataplate specifications
Ranger, 4-door sedan, Jadeglint Green Metallic with Mist Green
Green vinyl/green cloth interior

223 Econo-Six, 3-speed manual transmission, 3.89:1 axle ratio
Edsel number 703067 manufactured in Louisville, KY on October 21, 1958
---
Information as of: March 2011

Owner: Matthew Regan
Location: Maple Grove, Minnesota
Owned since: June 1993 Mileage: 29,000
Condition: Drives well
Originality: Stock, with a few modern parts such as battery, radial tires, etc. Accessories included: Lever-Temp Heater/Defroster, Standard Radio, Rear Speakers, Whitewall Tires, Two-tone Paint, Oil Filter Notes:
Grandfather purchased this car in an auction.
We worked on it together, and he died in 1995. I've taken care of the car ever since.
---
©2011 Edsel.com All Rights Reserved