A9UC702762 <!- 64C AE1 50 20K 3 2 -->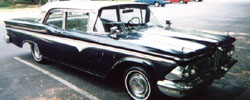 Dataplate specifications
Ranger, 2-door sedan, Jet Black with Snow White
Silver vinyl/black cloth interior

223 Econo-Six, Mile-o-matic 2-speed transmission, 3.56:1 axle ratio
Edsel number 702762 manufactured in Louisville, KY on October 20, 1958
---
Information as of: May 2005

Owner: Gary Lancianese
Location: Taylors, South Carolina
Owned: June 2003 - May 2006 Mileage: 79,000
Condition: Mostly original good driving condition
Originality: Stock, with a few updated parts Accessories included: Lever-temp heater, deluxe 8-tube radio with extended face, factory seat belts, aftermarket stainless "rain guards" over doors and quarter windows, full wheel covers, manual steering and brakes. Notes:
Car is in good #3 driver condition, with a few updates such as Pertronix ignition, new electric wipers, new radial tires, new brakes, shocks, and brand new repro '63 Ford Galaxie gas tank, using the '59 filler neck, which looks original from bottom. Interior is pretty good with older reupholstery and new carpet and trunk liner in boxes to install. Older repaint half-decent with usual small rust at bottom of front fenders and tips of rear quarters and inside trunk floor, can be patched easily.

Edsel was driven 500 miles from VA to SC on March 1 with only stopping to add oil due to leak in back of engine, but engine and transmission runs very good. Car will mostly need cosmetics and chrome to finish it.

The Ranger was a local southern Virginia car all its life, the second owner bought it in 1972 until storing it in 1982.

UPDATE: Sold to its new owner on May 4, 2006.
---
©2006 BE All Rights Reserved