B9UX702057 <!- 57B EM1 54 14K 3 5 -->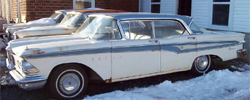 Dataplate specifications
Corsair, 4-door hardtop, Snow White with Jet Stream Blue
Blue vinyl and cloth interior

332 Express V8, Mile-o-matic 2-speed transmission, 2.91:1 axle ratio
Edsel number 702057 manufactured in Louisville, KY on October 14, 1958
---
Information as of: March 2010

Owner: unknown (online auction car)
Location: Wytheville, Virginia
Owned since: unknown Mileage: 53,775
Condition: Not Running but salvageable
Originality: Stock Accessories included: Air Conditioner, Power Steering, Whitewall Tires, Wheel Covers, Radio Notes:
Original unrestored 1959 Edsel with 53,000 actual miles. Original blue interior. The car has been repainted once in its past but the interior is untouched and in very good condition. The car has very little rust. There is no rust under the car.
This car has been in storage since the late 1970s. I purchased it in 1999 and have not gotten around to doing a thing with it and it is time for me to let it go. It is not running nor has it been running in many years. I was told when it was parked it was running great but reverse was out of the transmission. The interior kick panels are damaged and I have a correct set that goes with the car. The center of the grill was damaged a couple of years ago, I have an excellent replacement that goes with the car. The trim that is off the front fenders and hood is with the car. All of the stainless trim is in excellent condition; the bumpers are good but will need to be rechromed. All of the glass is good. This is an excellent original Edsel that I hate to let go of but I lost storage and it is too good to be sitting outside. The car has a clear title.
---
©2010 Edsel.com All Rights Reserved